Aurea - Rose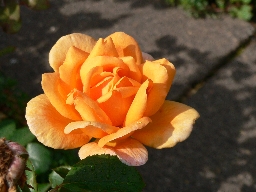 "Aurea", die "Goldene" - in etwa kommt die Farbe hin.

(E?)(L?) http://www.helpmefind.com/rose/roses.php?searchNmTyp=2&searchNm=Aurea&tab=1=2&grp=A

Aurea (hybrid tea, Dot, 1948) - Hybrid Tea / Large-Flowered. Yellow blend, red reverse. Pedro Dot (1948)
Aurea (tea, Ducher, 1873) - Tea. Yellow blend. Blooms medium, full (26-40 petals). Jean-Claude Ducher (1873)
Aurea (hybrid tea, Meilland, 1987) - Hybrid Tea / Large-Flowered. Deep yellow. Meilland International (1987)
Aurea (tea, pre 1858) - Tea. Light yellow, darker center. Blooms double (17-25 petals). Unknown (1858)
(E?)(L1) http://www.rosenberatung.de/rosen-images/GRUPPE2.html
(E2)(L1) http://www.calflora.net/botanicalnames/pageA.html

"aurea" / "aureum" / "aureus" = "golden"
(ref. Carex aurea, Justicia aurea, Lamarckia aurea, Pentachaeta aurea, Viola aurea, Ribes aureum, Linanthus aureus)



(E?)(L?) http://www.heilige.de/
Aurea (4.10.)

(E?)(L?) http://www.newadvent.org/cathen/02108a.htm
Mit dem Attribut "golden" wurden verschieden historische Dokumente versehen:
"Bulla aurea", the charter of emperor Charles IV, establishing (10 January, 1356), in union with the estates of the empire, law of future imperial elections.
"Catena aurea", a collection of Scriptural commentaries made by St. Thomas Aquinas.
"Legenda aurea", a collection of lives of saints (legendae) by Jacopo da Voragine, Archbishop of Genoa in the thirteenth century.
"Summa Hostiensis aurea", also Summa Archiepiscopi, a famous exposition of the principal parts of the Decretals of Gregory IX, by Henricus de Segusio, Cardinal of Ostia (d. 1271).
"Tabula aurea", an index to the "Summa Theologica" of St. Thomas Aquinas prepared by Pietro da Bergamo.